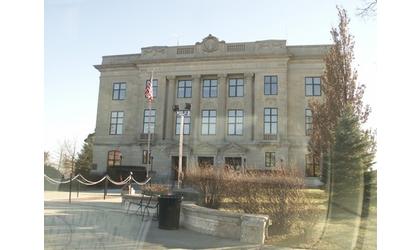 Brown County Courthouse
(KNZA)--Brown County is looking at placing a moratorium on the development of commercial wind energy projects in the county.
Brown County Commissioner Bill Pollock proposed the moratorium at Monday's County Commission meeting until a comprehensive plan is developed to determine how to best protect the county and its residents from the negative effects of such projects.
A motion by Pollock to enact the moratorium died due to the lack of a second. However, following discussion, the Commission instead approved a motion by Commissioner Rich Lehmkuhl to proceed with the moratorium process in consultation with an attorney.
The action came after county resident Cliff Heiniger presented a list of 118 Brown County residents concerned about the development of wind energy projects in the county. That's in addition to a list of 125 names submitted in April by county resident Lucas Heinen.
Heiniger discussed the proposed Pony Express Wind Farm project in northwestern Brown County and northeastern Nemaha County. The project, which is currently in the permitting stage, would consist of 320 turbines.
Heiniger said he believes the Commission should look at zoning as way to way to control the development of wind energy projects in the county.
Lehmkuhl said he heard from several residents over the weekend with the same opinion.
The Commission plans to solicit proposals from engineering firms to develop a comprehensive plan, which would lay the foundation for zoning.
County Attorney Kevin Hill said a comprehensive plan could take up to 2 years to develop.