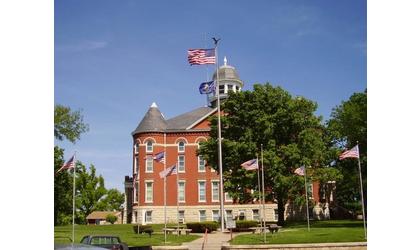 Doniphan County Courthouse In Troy
(KAIR)--A special election, for the purpose of establishing a countywide ambulance service in Doniphan County, is off the table.
That follows Monday's meeting of the Doniphan County Commission, with County Clerk Peggy Franken, at that session, explaining that "there is no statutory authority for the County Commission to call a non-binding advisory election."
That follows the Commission's decision last month to set a special, March 8 election to allow voters to decide whether or not to establish the ambulance service.
According to the unofficial minutes of Monday's meeting, Franken also explained to the Commission that "Kansas Attorney General Opinions discourage the County Clerk/Election Official from holding or participating in advisory elections." Also, the election database cannot be used in any way to administer an advisory election.
Because of those factors, Franken Monday recommended to the Commission that a survey be mailed to county taxpayers "to gauge a response to the formation and funding of a county wide ambulance service."
Following her presentation, the Commission unanimously voted to rescind the motion to hold the special, March 8 election.
They then voted in favor of mailing the survey asking if Doniphan County Commissioners should levy a tax to establish and operate a countywide ambulance district.
Surveys must be returned on or before March 1.
Also Monday, the Commission held its annual organizational meeting, with Second District Commissioner Wayne Grable elected as Commission Chair for 2022.
Timothy Collins was elected to serve as the Commission's Vice-Chairman for the year.