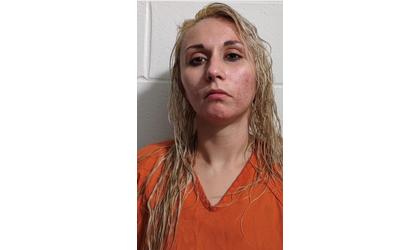 Chelsea Jean Finch ( Credit: Jackson Co Sheriff's Office)
(KNZA)--A Powhattan woman is jailed in Jackson County following a two-county pursuit Wednesday night in a stolen vehicle.
Jackson County Sheriff Tim Morse said the pursuit began in southern Jackson County after a deputy attempted to stop a 2016 Chevy Equinox on U.S. 75 Highway near 110th Road shortly before 10:30 for a traffic infraction.
The driver, identified as 28-year-old Chelsea Jean Finch, failed to stop and continued south into Shawnee County.
Morse said several law enforcement agencies attempted to stop her vehicle with tire deflation devices, which resulted in the deflation of two of the SUV's tires.
The pursuit continued west on I-70 where the vehicle left the interstate on Danbury Lane and sideswiped another vehicle. Finch continued, striking a mailbox. The pursuit came to a stop near Fairlawn and West Drive, where Finch was taken into custody.
Morse said the vehicle Finch was driving had been reported stolen out of Lawrence.
She was booked into the Jackson County Jail on charges of felony fleeing and eluding law enforcement, possession of methamphetamine, possession of drug paraphernalia, felony theft, identity theft, avoiding spike strips, reckless driving, driving while suspended, and multiple counts of stolen property. Further charges are possible.
Morse said Finch is known to area law enforcement. In 2020, she as involved in a pursuit in Shawnee County. In 2018, Jackson County deputies found her hiding from law enforcement in the attic of a Horton residence.