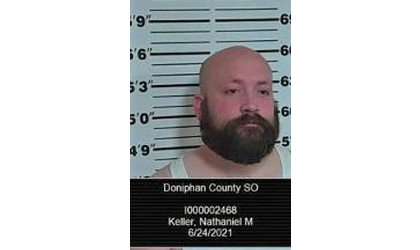 (KNZA)--Formal charges have been filed against a former Doniphan County Sheriff's deputy arrested in June after Kansas Bureau of Investigation agents served a search warrant on his home.
The Kansas Attorney General's Office filed a formal complaint September 1 in Doniphan County District Court charging Nathaniel Keller, of Troy, with 15 counts.
Keller has been charged with criminal sodomy, three counts of aggravated indecent liberties with a child, furnishing alcohol to a minor for illicit purposes and promoting obscenity to minors.
The charges stem from crimes alleged to have occurred in 2017 with a child 14 or older, but less than 16 years of age.
In addition, Keller has been charged with criminal restraint, four counts of domestic battery, criminal damage to property, stalking and aggravated intimidation of a witness or victim.
Those crimes are alleged to have occurred in 2019 and this year.
A status hearing has been set for Friday ( September 10) , during which time a preliminary hearing is expected to be set.
Keller remains free on a $500,000 bond.