Former volleyball coach jailed on sex charges
09/08/2021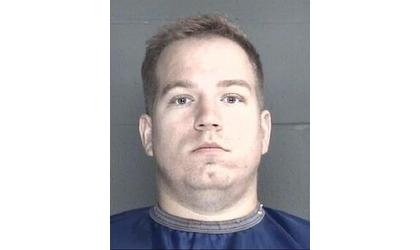 Levinson " Levi" Gibson ( Credit: Leavenworth Co Sheriff's Office
(KAIR)--A former Kansas City volleyball coach is jailed in Leavenworth County, arrested Wednesday on child sex-related charges following an investigation by the Kansas Bureau of Investigation and the Leavenworth County Sheriff's Office.
According to a release from the KBI, 27-year-old Levinson "Levi" Gibson is accused of soliciting nude photos from a juvenile female volleyball player while he was employed by the Dynasty Volleyball Academy, in Kansas City, Kansas.
The alleged crime was reported to the Leavenworth County Sheriff's Office on July 11, 2020, leading to the joint investigation and to the execution of a search warrant on July 21, of that year, at Gibson's then-workplace, in Kansas City, with the search leading to his resignation from his coaching position a short time later.
An arrest warrant was issued last month, on August 31, charging Gibson with one count of sexual exploitation of a child.
Gibson, according to the release, traveled from his home in Indianapolis, Indiana to turn himself in at the Leavenworth County Jail during the noon hour Wednesday.
The release notes that while "investigators do not currently have evidence that additional victimization occurred," anyone with information related to the case is asked to call the KBI at 1-800-KS CRIME or submit a tip online at https://www.kbi.ks.gov/sar.
After turning himself in, Gibson was booked into the Leavenworth County Jail.
The investigation is ongoing.
© Many Signals Communications
You will need to be logged in to leave a comment.
Please Login The posting of advertisements, profanity, or personal attacks is prohibited.
Click here to review our Terms of Use.