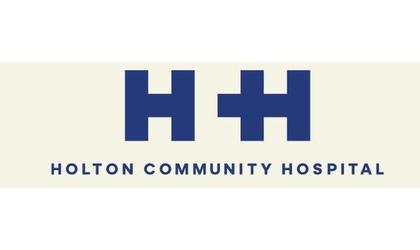 (KNZA)--Holton Community Hospital was recently awarded a $100,000 grant from the Patterson Family Foundation.
According to Hospital CEO Carrie Saia, the grant has been used to help purchase new digital radiology equipment. "We cannot adequately express our gratitude to the Patterson Family Foundation for this generous grant. It has allowed us to purchase a new portable x-ray machine. This unit is vital to the care of COVID and other emergent patients; as it allows for instantaneous viewing of images, thus offering enhanced patient care," Saia added.
The Patterson Family Foundation is a family-led foundation extending the legacy of Neal and Jeanne Patterson through collaborations in health care, education and rural communities.
"Patterson Family Foundation is pleased to contribute funding to Holton Community Hospital as front line providers and staff work tirelessly to care for patients. We hope this funding has helped Holton Community Hospital purchase the critical equipment and supplies needed to treat COVID-19. It is both our privilege and pleasure to offer a helping hand to rural communities navigating through these unprecedented times," said Lindsey Patterson Smith of the Foundation.
"The radiology staff is extremely appreciative of this contribution. This grant, coupled with the renovation of our department, will allow us to continue to provide high-quality radiologic services. Applications training for the portable unit is taking place now and the staff are so excited for this heightened level of patient care," said Director of Radiology, Kristi Roush.
Holton Community Hospital is a 501c3 Not-for-Profit Corporation governed by an eight member Board of Directors. Designated as a Critical Access Hospital, Holton Community Hospital, offers vital health care services to Holton, Hoyt, Wetmore and surrounding areas.