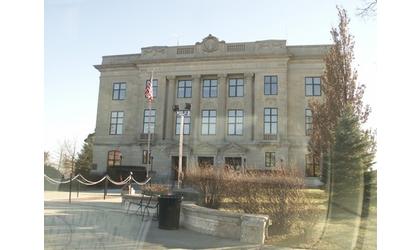 Brown County Courthouse
(KNZA)--Brown County Services for the Elderly Director Lori Gray has announced she plans to retire next month.
Gray submitted a letter to the Brown County Commission Monday informing them of her decision to take early retirement.
Her last day will be October 30.
Gray has worked for Brown County for almost 18 years.
The Commission voted to advertise the job opening for two weeks and interview applicants at their October 19 meeting.
In other business, the Commission further discussed a resolution that would prohibit semis from " Jake-braking" or engine breaking on roads within the county.
Vigil Wiltz, who lives just south of the Hiawatha city limits along U.S. 73, requested the commission take the action at their September 14 meeting.
County Attorney Kevin Hill sent a sample resolution to Commissioners for their review.
Commissioner Rich Lehmkuhl said he will consult with Sheriff John Merchant as to which roads he suggests be included in the resolution.
The matter was tabled until the Commission's September 30 meeting.