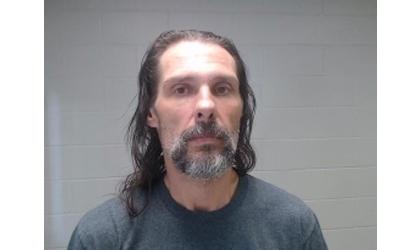 Chad Stroble ( Credit: Atchison Co Sheriff's Office)
(KAIR)--A Kansas City, Missouri man who fled from Atchison Police in May has been taken arrested.
Atchison Police Chief Mike Wilson said 48-year-old Chad Stroble was arrested Monday on a District Court warrant for fleeing and attempting to elude, driving while suspended, reckless driving and other traffic offenses.
Wilson said during the early morning hours of May 22 officers responded to a disturbance in the 19-hundred block U.S.73 Highway.
A van involved in the disturbance was fleeing the scene as officers arrived. Wilson said the driver of the van refused to stop for officers and fled into Missouri.
A subsequent investigation determined the driver to be Stroble.
As of Tuesday morning, Stroble remained in the Atchison County Jail on a $15,000 surety bond.