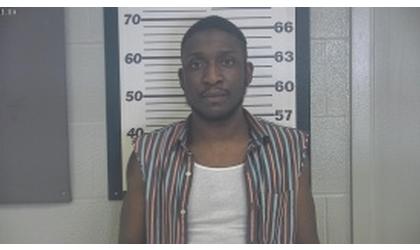 Mark Stephens ( Credit: Platte Co Sheriff's Office)
(KAIR)--A Florida man was taken into custody Saturday afternoon following the armed robbery of an Atchison business.
Atchison Police Chief Mike Wilson, in a release, said officers responded at 2:45 to a robbery that had occurred at Cricket Wireless located at 121 South 8th Street.
Wilson said a lone suspect had entered the store and ordered a clerk to get him iPhones from a locked box as he showed the clerk a handgun he had in his waist.
The suspect also grabbed phone accessories before fleeing the scene to a nearby parked vehicle.
Wilson said officers were able to obtain a vehicle description that was broadcast to area law enforcement.
The Nissan SUV with a Missouri license tag was determined to be stolen from the Kansas City area.
Wilson said the vehicle was located at 4:30 Saturday afternoon by the Missouri Highway Patrol on the shoulder of I-29 near the Camden Point exit in Platte County.
26-year-old Mark Stephens, of Melbourne, Florida, was taken into custody and is being held in the Platte County Jail for Atchison Police on a charge of aggravated robbery.