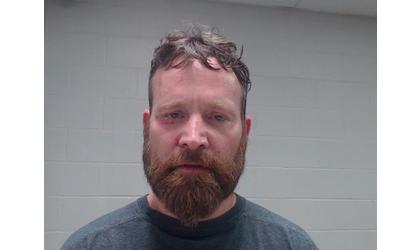 Mitchell Standfield ( Credit: Atchison Co Sheriff's Office)
(KAIR)-- A Missouri man was arrested following an early Monday morning altercation with Atchison police.
Atchison Police Chief Mike Wilson said officers responded to a disturbance in the 18-hundred block of North 2nd in Atchison shortly after 3:00.
He said officers determined a disturbance was occurring between a 35-year-old woman and 43-year-old Mitchell Standfield, of Kearney, Missouri.
Wilson said Standfield became aggressive with officers, allegedly threatening to strike them.
After a brief struggle, he was taken into custody on a charge of assault of a law enforcement officer.
Standfield was booked into the Atchison County Jail. Bond was set at $2,500.
Wilson said no one was hurt during the incident.