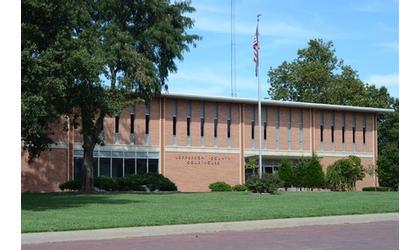 The Jefferson County, KS Courthouse/Credit: Facebook
(KAIR)--Despite opposition from one Commissioner, the Jefferson County Commission has voted to exempt the county from the Kansas Governor's Order requiring the wearing of masks, due to COVID-19.
According to the unofficial minutes of Tuesday's special session of the Commission, the vote followed discussion held by the Commission that came after a presentation by County Health Officer Crystal VanHoutan.
She told the Commission it's in the best interest of community health to wear masks in public settings where social distancing is not possible.
Commission discussion included that the public should be aware that if the virus continues to spike, and more cases or deaths occur in Jefferson County, another shutdown might be necessary.
Commissioner Lynn Luck expressed support for leaving the Governor's order in place, while Commissioners Richard Malm and Wayne Ledbetter voiced the opposite, saying the public should be allowed to self-comply with mask-wearing.
Malm and Ledbetter voted in support of the resolution exempting the county from the requirement, while Luck cast the lone no vote.