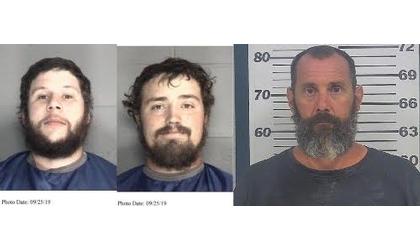 Left to right: Matthew Cole Scherer, Brian Spilman, Jr. (Credit: LV Co Sheriff's Office) and Scott Vandeloo (Credit: Platte Co Sheriff's Office)
(KNZA)--New court dates have been set for three Atchison men charged in a fatal 2019 Doniphan County fight.
Matthew " Cole" Scherer is now set for arraignment on July 22 in Doniphan County District Court, while Scott Vandeloo is to be arraigned August 5.
A pre-trial conference for the third defendant, Brian Spilman, Jr., is set for July 8.
All three are charged with second-degree murder in the beating death of 42-year-old Jason Pantle, of Cummings.
Authorities allege the trio engaged in altercations with Pantle during a September 22, 2019 party in southern Doniphan County.
Pantle died seven days later at a Kansas City Hospital after suffering what investigators called serious head injuries.
Scherer, Vandeloo and Spilman remain free on $150,000 bond each.