Mural honors fallen Brown Co deputy
06/26/2020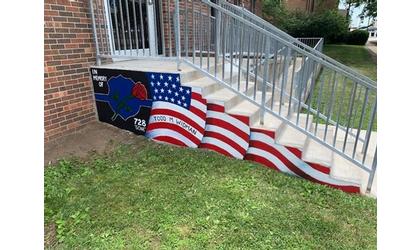 ( Credit: Hiawatha Police Dept)
(KNZA)--A mural has been added to the front steps of the Hiawatha Law Enforcement Center in remembrance of fallen Brown County Sheriff's deputy Todd Widman
Widman was killed in the line of the duty on March 1, 2000.
Hiawatha Police Chief John Defore received approval from the City Commission last year for the high school community service project.
On Friday, graduating senior Madelyn Gruber and Hiawatha High School art teacher Matt Leahy painted the mural on the east side of the front steps.
The project was orginally scheduled to be completed last fall. The project had to be postponed last fall, and was postponed again this spring due to the ongoing COVID-19 issues.
Defore said the project could have just been forgotten about and left undone, but Gruber and Leahy followed through on their own time with what they started.
" Through their artwork, they are being of service to our community and for that, we wish to say thank you to them", said Defore.