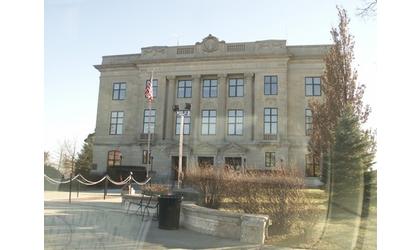 Brown County Courthouse
(KNZA)--The Brown County Commission, during a meeting Friday, approved a reopening plan for the county.
The plan drafted by County Health Officer Chastity Schumann comes after Governor Kelly gave county officials the authority to determine their own coronavirus restrictions.
In recommending the plan, Schumann noted Kansas is seeing a decline in the spread of the virus, deaths and hospitalizations.
Under the plan, mass gatherings of more than 50 individuals are prohibited.
All businesses—including bars—may reopen as long as they are able to maintain a 6-foot social distancing between groups of customers and avoid any instances in which groups of 50 individuals are in one place and unable to avoid social distancing.
Libraries, activities and venues may open following mass gathering, social distancing and sanitary guidelines.
The reopening order took effect Friday and will remain in place until June 8.
You can view the entire order on the county's website at brcoks.org.
The Commission also Friday approved guidelines for Phase 2 of the re-opening of the Courthouse, which will be effective Monday, June 1 through June 15.
Customers entering the courthouse will be screened and only three customers will be allowed in an office at one time. Face coverings are recommended.
In addition, the Commission approved re-opening the county's senior taxi service, beginning June 1st. Only two riders will be allowed per day, one in the morning and one in the afternoon.