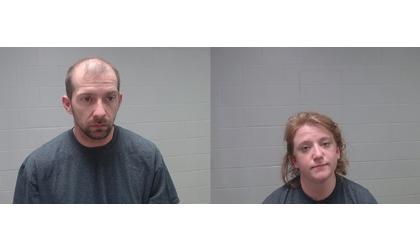 Andrew Banker and Ashlynn Clinton (Credit: Atchison Co Sheriff's Office)
(KAIR)--A Thursday evening Atchison traffic stop led to two arrests, one involving the possession of illegal drugs.
According to report from Atchison Police Chief Mike Wilson, a traffic stop was made in the 500 block of South U.S. Highway 73, around 7:20 Thursday evening, and the driver, 36-year-old Andrew Banker, of Atchison, was taken into custody for driving while suspended, interference with law enforcement, allegedly having provided the officer with false identification information, and four District Court warrants for failure to appear.
Wilson said, during the stop, the police department's K-9 unit was used at the scene of the traffic stop, which resulted in the discovery of the alleged drugs.
Arrested was Banker's passenger, 27-year-old Ashlynn Clinton, of Atchison, who now faces charges for possession of methamphetamine, possession of a prescription anti-anxiety medication, and possession of drug paraphernalia.
Both Banker and Clinton were booked into the Atchison County Jail.