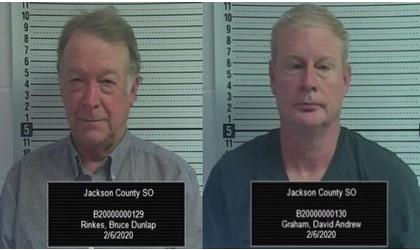 Bruce Rinkes and David Andrew Graham II (Credit: Jackson Co Sheriff's Office)
(KNZA)--Two arrests are made following what authorities are calling "a joint human trafficking operation" in Jackson County.
According to a release from Jackson County Sheriff Tim Morse, 50-year-old David Andrew Graham II, of Carbondale, Kansas, and 64-year-old Bruce Rinkes, of Holton, were arrested Thursday evening, in Holton, and face charges for buying sexual relations and unlawful use of a communication facility.
Morse, in the release, said the investigation was conducted by deputies and detectives of the Jackson County and Shawnee County Sheriff's Offices.
Rinkes and Graham are currently free on bond.