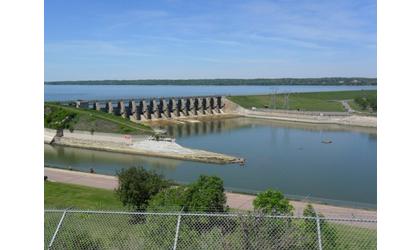 Gavins Point Dam
(KLZA)-- Water releases at the Gavins Point Dam on the Missouri River at Yankton, South Dakota have been increased again.
The release rate from the Gavins Point Dam have been increased from 30-thousand cubic feet per second to 35-thousand cubic feet per second in an effort to create more storage space in the upstream reservoirs prior to spring runoff.
The release rate this time of year is typically 12 – 17,000 cubic feet per second.
The National Weather Service says the mountains that drain water from melting snow into the river are about 50 percent of the peak snow water equivalent, with the peak around the middle of April.
The National Weather Service is predicting a cold snap around the middle of February which could create ice jams that could worsen flooding
Fears are that downstream tributaries could reach major flood stage creating more downstream flooding. The long-range forecsat is calling for a high likelihood of tributary flooding this spring in eastern South Dakota and eastern Nebraska.
Most of the Missouri River basin has above-normal soil moisture conditions which means the basin can expect much higher runoff.
John Remus, Chief of the Corps' Missouri River Basin Water Management Division says the potential for above-normal runoff, coupled with above-normal stages on many uncontrolled tributaries that join the Missouri River below Gavins Point Dam, increases the potential for flooding, particularly south of Omaha.
All of the 2019 water has been emptied from the system. The 2020 calendar year runoff forecast is 141% of average.