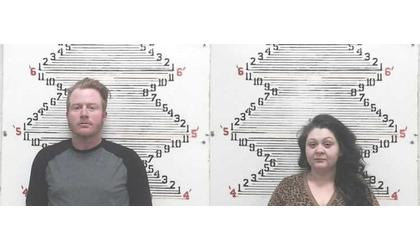 James Curry and Linda Curry (Credit: Brown Co Sheriff's Office)
(KNZA)--A Brown County investigation, following the report of questionable solicitations from paving contractors, has led to two arrests on unrelated charges.
According to a release from Brown County Sheriff John Merchant, an Oklahoma couple is now in custody on traffic related charges.
37-year-old James Curry, of Enid, Oklahoma, was arrested on an outstanding $500 cash warrant for failure to appear in Meade County, as well as driving while license canceled, suspended, or revoked.
Curry's wife, Linda Curry, was arrested when she attempted to bail her husband out.
She faces charges for a $2,500 Miami County warrant for driving while license canceled suspended, or revoked.
The couple was booked into the Brown County Jail.
The arrests came Friday after residents in northwest Brown County notified authorities that contractors, driving a black, Chevrolet pickup truck with an Oklahoma license plate, were soliciting in their area. Merchant patrolled that location and located the vehicle, which led to the arrest of James Curry.
Merchant asks that anyone who has had dealings with the couple to call his office at (785) 742-7125.
Social media posts in recent weeks indicate that similar solicitations were being made in Atchison County, specifically the Farmington area.
Atchison County Sheriff Jack Laurie told MSC News in that case, it was an Arkansas man who was driving a red, Dodge pickup, and he was issued a notice to appear in court for driving without a valid license.
There's no immediate connection between the cases in the two counties.