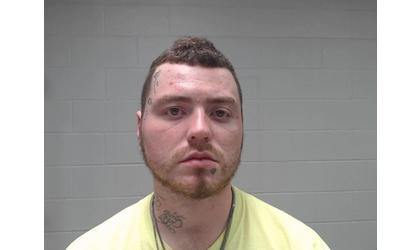 Benjamin Ervin/Credit: Atchison Co Sheriff's Office
(KAIR)--A routine theft call to the Atchison Walmart led to the alleged discovery of a gun and drugs, and to the arrest of an Atchison man.
Atchison Police Chief Mike Wilson, in a report, said his officers responded to the store, located at 1920 U.S. Highway 73, around 7:00 Tuesday evening to investigate a theft.
When they arrived, they took 24-year-old Benjamin Ervin into custody for a theft with a value of under $100.
However, Wilson said officers discovered that Ervin was in possession of heroin and drug paraphernalia, as well as a gun.
Ervin now faces charges for theft, possession of heroin, possession of drug paraphernalia, and criminal possession of a firearm by a felon.
Following his arrest, Ervin was booked into the Atchison County Jail.