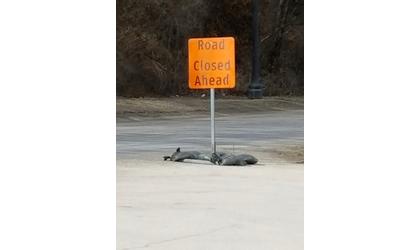 Road closed sign in place at Atchison's River Road due to flooding. (Credit: Cathy Scholz)
(KLZA)-- The time frame to re-open Missouri Highway 159 between the Missouri River and Route 111 in Holt County, Missouri is unknown at this time.
The Missouri Department of Transportation said in a Tuesday news release, flooding that has occurred since the roadway was re-opened has caused an unknown amount of damage.
MoDOT has confirmed some shoulder scour, but the rest of the damage is unknown due to water that remains over the highway.
Due to damage to the Little Tarkio Creek Bridge near Fortescue, once U.S. 159 is reopened, a signed detour will remain in place to move traffic between Nebraska and Interstate 29.
The Little Tarkio Creek Bridge near Fortescue is described as a complete loss and will need to be replaced. Emery Sapp & Sons Inc. was awarded a more than $2.5-million contact in June to replace the bridge. As soon as floodwaters recede work will begin. It is noted that some work can only take place above certain temperatures so the bridge will possibly remain closed through the winter.
Also in Holt County, work on the Penny Slough Bridge replacement project east of Fortescue will begin when floodwater recede. The $2.2-million contract has been awarded, but due to flood water and winter temperatures, the bridge could remain closed through the winter.
A large land slide on a section of Route T in Holt County, near Mill Bluff Road has forced the road to be closed. MoDOT is working with consultants to complete a geotechnical analysis and develop plans for a repair project that is scheduled for bid letting in March, 2020.