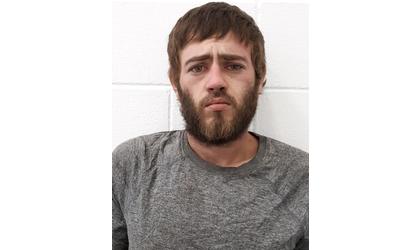 Lane Michael Simpson/Credit: Jackson Co Sheriff's Office
(KAIR)--A Wednesday morning, two county pursuit, led to the arrest of a rural Mayetta man.
According to a news release from Jackson County Sheriff Tim Morse, 23-year-old Lane Michael Simpson was arrested following the pursuit that crossed from Jackson County into Jefferson County and involved deputies from both locations.
It began around 8:30, in southern Jackson County, after a deputy spotted a pickup truck near 150th and P. Road allegedly commit traffic violations.
According to Morse, Simpson didn't stop, with the pursuit beginning near 142nd and Q. Road, continuing east into Jefferson County.
It continued southbound on Meriden Road, with a Jefferson County Sheriff's Deputy deploying stop sticks at 102nd and Meriden Road.
The Ford F-250, alleged to have been driven by Simpson, turned west toward Jackson County on 90th Road, and became disabled when the front driver's side tire separated from the wheel.
Simpson was taken into custody by Jefferson County deputies on Christie Road, and transported to the Jackson County Jail.
Simpson faces charges for felony flee and eluding a law enforcement officer, driving while suspended, reckless driving, and operating a vehicle without an interlock device. Simpson also had outstanding warrants from Atchison and Douglas Counties, as well as the City of Topeka.
The Kansas Highway Patrol, utilizing a helicopter, and the Ozawkie Police Department, also assisted during the pursuit.