Reward increased in explosion probe
10/03/2019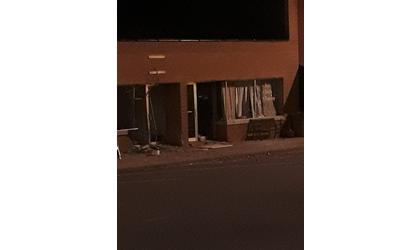 The Hair Spital Barber Shop, 120 North 8th Street, in Atchison, following an early morning explosion on July 8, 2018, that authorities say was intentional. (Credit: MSC News/Brian Hagen)
(KAIR)--The reward being offered in connection with a July explosion in downtown Atchison has been increased.
Investigators have upped the reward for information leading to the arrest and conviction of whoever was responsible to $10,000, an increase from the $5,000 originally offered. That's according to information posted Thursday to the Atchison Police Department's Facebook page.
The Bureau of Alcohol, Tobacco, Firearms and Explosives is investigating the crime in conjunction with Atchison Police, and other agencies.
The explosion happened in the early morning hours of July 6, 2018 when someone placed what investigators call an improvised explosive device outside of the Hair Spital Barber Shop, located at 120 North 8th Street.
No one was injured in the early morning blast that damaged not only that business, but caused damage to surrounding structures as well.
No arrests have been made in connection with the case, as investigators continue their attempt to learn more details about a suspect van spotted in the area of the explosion.
Anyone with information about the case should contact the ATF at 1-888-ATF-BOMB or on their website. Tips can be given anonymously.
MSC Radio News Director Brian Hagen had a chance to talk with Atchison Police Chief Mike Wilson about the latest in the ongoing investigation.
© Many Signals Communications
You will need to be logged in to leave a comment.
Please Login The posting of advertisements, profanity, or personal attacks is prohibited.
Click here to review our Terms of Use.