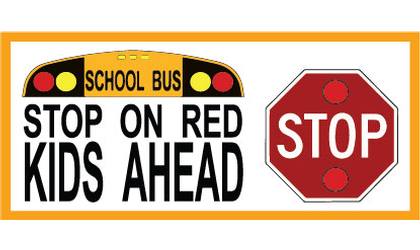 (KAIR)--As the new school year begins across the local area, safety is urged as yellow school buses transport students to and from their school day.
The Kansas State Department of Education has launched a new campaign focused on driver awareness pertaining to the Kansas school bus stop arm law.
According to a press release issued about the "Stop on Red, Kids Ahead" campaign, the law requires all motorists to stop when approaching a stopped school bus from either direction when it's displaying its flashing red lights and stop arm. Motorists have to remain stopped until the bus is no longer displaying its flashing red lights and stop arm.
Violation of the law is punishable by a fine and court costs in excess of $420.
In April, Kansas bus drivers reported 1,040 stop arm violations. The data was collected during the Kansas One-Day Stop Arm Violation Count. There were 220 districts and 3,300 buses that participated in this year's Kansas survey. In April 2018, 214 districts and 3,347 buses participated and reported 1,030 violations. There were 691 violations reported by 188 districts using 2,527 buses in April 2017.