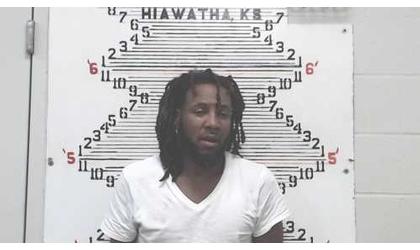 Gregory Rumph/Credit: Brown Co Sheriff's Office
(KNZA)--A Kentucky man is facing charges following what Brown County authorities call a "tense situation" involving a handgun Thursday morning.
According to a release from Brown County Sheriff John Merchant, the situation began with a call to 911 regarding a vehicle theft in progress, south of Hiawatha, on Linden Road.
Deputies were joined by Hiawatha and Kickapoo Police in responding to the scene where a man was found to be armed with a handgun.
The area was contained by law enforcement and the suspect, now identified as 31-year-old Gregory Rumph, called 911, where he talked with a dispatcher.
Merchant said the dispatcher was able to convince Rumph to surrender, and he was taken into custody without further incident.
Rumph, of Glasgow, Kentucky, was arrested on charges of felony theft, violation of a protection order, and aggravated assault. Additional charges are pending as the investigation continues.
Following his arrest, Rumph was booked into the Brown County Jail.