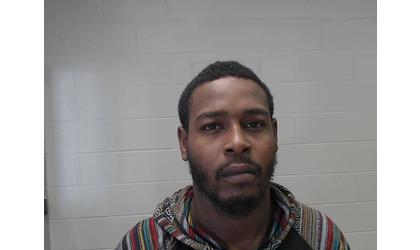 Christopher Edwards/Credit: Atchison Co Sheriff's Office
A threat made with a handgun leads to the arrest of a 26-year-old Atchison man.
That word from Atchison Police Chief Mike Wilson who told MSC News Christopher Edwards allegedly made the threat late Wednesday morning in an Atchison parking lot. "Shortly before 11:00 Wednesday morning, we had a 32-year-old male report to us that he was in a parking lot, in the area of the 900 block of Division, when he was approached by a 26-year-old male who he was acquainted with. That male suspect produced a gun, threatened the 32-year-old victim with that gun, made verbal threats."
Edwards, after making the alleged threat, left the area, and police were notified, leading to his arrest. "And then that suspect just walked away from the victim. We were given a vehicle description. It was just a very short time later when we spotted that vehicle. We stopped it, we took the 26-year-old suspect into custody, we recovered the handgun that was used in the threat, and also we located in the vehicle a controlled substance."
The controlled substance is identified as synthetic marijuana.
Edwards was taken into custody on charges including aggravated assault, criminal possession of a firearm by a convicted felon, and possession of a controlled substance.
Following his arrest, Edwards was booked into the Atchison County Jail.