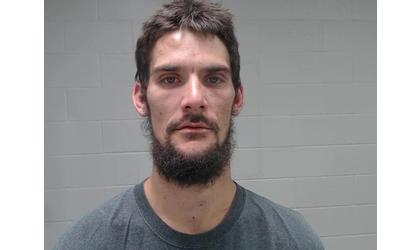 John Workman/Credit: Atchison Co Sheriff's Office
(KAIR)--A 29-year-old Atchison man, accused of causing injuries that sent a woman to the hospital, is facing charges related to what police say was a Wednesday morning domestic altercation. "Shortly after 9:00, our officers responded to a disturbance in the 500 block of North 9th. We actually had been there on previous occasions, we were familiar with the victim and the suspect," Atchison Police Chief Mike Wilson told MSC News.
Wilson said the arrest of 29-year-old John Workman was made at the residence. "The 44-year-old victim reported to us that a domestic disturbance had occurred at the residence. She did receive facial injuries. In fact, we did have her transported to the hospital for examination of a possible head injury suffered during the disturbance. The suspect was taken into custody at the scene."
Workman faces charges of domestic battery and criminal restraint. "That charge is based on the fact that he prevented the victim from leaving the residence during the disturbance. There's also several other possible charges that may come forth based on a continuing investigation of that disturbance."
Following his arrest, Workman was booked into the Atchison County Jail.