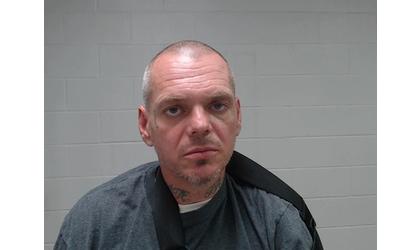 Jason Markley/Credit: Atchison Co Sheriff's Office
(KAIR)--A Thursday morning Atchison domestic disturbance led to injuries and to one arrest.
According to Atchison Police Mike Wilson, officers were called to the 300 block of South 5th Street shortly after 7:30, where a 34-year-old woman, named as a victim, was located at the residence.
Officers learned a 43-year-old man had left the area, but he was immediately located just east of 4th and U.S. Highway 59, on the Amelia Earhart Memorial Bridge.
Suffering from minor injuries, the man, identified as Jason Markley, of Saint Joseph, Missouri, was transported to the Atchison Hospital by Atchison County EMS for treatment. Once released, he was arrested on an Atchison County District Court Warrant for failure to appear in court.
Once he was booked into the Atchison County Jail, Wilson said the investigation into the morning's domestic disturbance continued, leading to Markley's arrest on charges of aggravated assault, domestic battery, criminal restraint, and criminal threat.
Wilson said the woman had received scratches and bruises during the disturbance, but was not transported for hospital care.