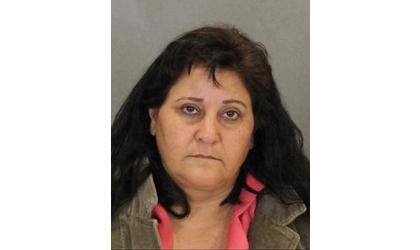 Maria Perez-Marquez/photo credit: Douglas Co Neb Dept of Corrections
(KNZA)--An Omaha, Nebraska woman will spend three years in jail for a 2017 wreck that killed three members of a Sabetha family.
Jackson County Attorney Shawna Miller says 49-year-old Maria Perez-Marquez was sentenced Friday in Jackson County District Court on three misdemeanor counts of vehicular homicide and a felony count of aggravated battery.
Miller said Perez-Marquez was sentenced to one year in jail for each count of vehicular homicide, with the terms ordered to be served consecutively.
She also received 13 months for the aggravated battery charge, which was suspended to two years probation.
Miller said Perez-Marquez was also ordered to register as a violent offender for 15 years.
She pleaded no contest to the charges in April.
Authorities say Perez-Marquez was attempting to pass another vehicle on U.S. 75, north of Holton, in November 2017 when she swerved onto the shoulder and crashed into an oncoming minivan.
Killed were Carmen, Marlee and Stephen Ukele. Lee Ukele was critically injured and died last month from his injuries.
They were returning home from watching the Sabetha High School football team win the state 3A championship. Carmen and Lee's two sons were members of the team.