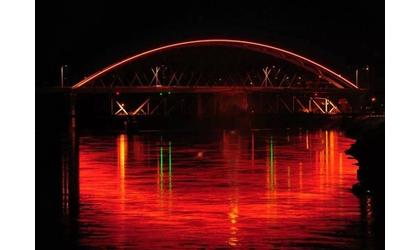 File photo of Atchison's Amelia Earhart Memorial Bridge lit orange for KDOT's "Go Orange" safety campaign. (Credit: City of Atchison/Facebook
(KAIR)--A local bridge is included among Kansas structures being lit orange to raise work zone safety awareness.
According to a news release from the Kansas Department of Transportation, the lights on Atchison's Amelia Earhart Memorial Bridge are changed to orange through Friday as part of KDOT's "Go Orange" campaign.
According to the release, the campaign is timed with National Work Zone Awareness Week, which is held to highlight the dangers faced by highway workers and motorists in work zones while promoting safer behaviors.
As part of the week, everyone is encouraged to wear orange on Thursday, the official "Go Orange Day" in Kansas.
Along with Atchison's bridge, other structures lit orange for the week include KDOT's district offices, including the one in Topeka, the Governor's mansion, the Visitor's Center in the State Capitol, the Eisenhower State Office Building, Topeka's City Hall, and the travel information center on I-70, near Goodland.