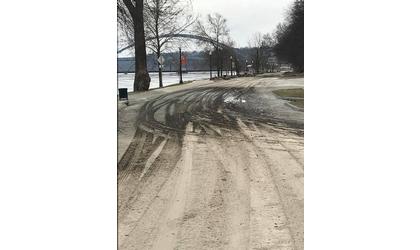 Atchison River Road following flooding and prior to clean-up. (Photo credit: City of Atchison/Facebook)
(KAIR)--Atchison's River Road could reopen as early as Tuesday afternoon.
That word was delivered Monday evening in a post made to the City of Atchison's Facebook page.
The post said that city crews will begin the cleanup of the road, and the riverfront, on Tuesday, clearing the way for the opening.
River Road was closed to all traffic last week due to the flooding of the Missouri River.
Meanwhile, other area roadways remain closed, including U.S. Highway 59, east of Atchison, in Buchanan County, Missouri. Due to that closure, the Amelia Earhart Memorial Bridge, connecting Atchison to Missouri remains closed.
The Army Corps of Engineers increased the release from Gavins Point Dam Monday.
According to a news release, the decision was made to up the release to 27,000 cubic feet per second.
In the release, John Remus, Chief of the Corps' Missouri River Water Management Division, said the Corps is "beginning to see the plains snow melt in the upper basin with runoff into all of the upper storage reservoirs."
Releases are expected to be increased to 30,000 cubic feet per second March 30 to allow increased releases from Fort Randall Dam.
The National Weather Service is forecasting high flows from melting snowpack in central and eastern South Dakota and along the Missouri River at North Dakota.
Gavins Point release changes take two to three days to reach Omaha, three to four days to reach Nebraska City, and four to five days to reach Kansas City, Missouri.