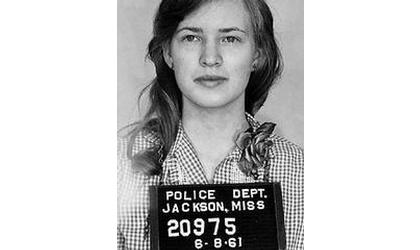 Joan Trumpauer Mulholland's 1961 Mississippi police mug shot ( photo submitted)
(KAIR)--Civil rights activist Joan Trumpauer Mulholland is coming to Atchison, and in advance of her visit, students from Atchison's Saint Benedict Catholic School have been studying the civil rights movement of the 1960's.
Trumpauer Mulholland was involved with the lunch counter sit-ins and Freedom Rides through Mississippi, nearly losing her life as a result.
Her Atchison visit will include a public forum on the evening of Wednesday, March 20, from 7 to 9:00, at the Atchison Middle School Auditorium.
MSC News sat down with Saint Benedict students to find out what they've learned in the classroom regarding our country's civil rights history.