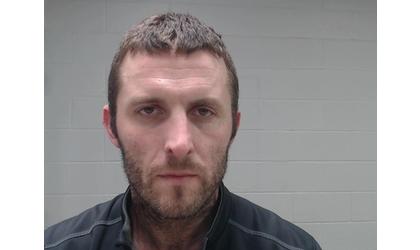 Matthew Aliber/Credit: Atchison Co Sheriff's Office
(KAIR)--A Leawood, Kansas man is facing charges in connection with the theft of a vehicle that authorities say was stolen from an Atchison parking lot, but returned several hours after the alleged crime.
Atchison Police Chief Mike Wilson told MSC News 34-year-old Matthew Aliber was arrested Tuesday evening after allegedly stealing the vehicle late that morning. "About 11:00 Tuesday morning, a 2012 Ford SUV was taken from a parking lot in the 1900 block of North 2nd. The vehicle was recovered at 2:30 p.m. when it was returned to the same parking lot where it had been stolen. We were searching for a 34-year-old suspect who we did locate in the downtown area shortly before 7:00 Tuesday evening."
Wilson said the vehicle belonged to an employee of the rehabilitation facility that Aliber had been visiting.
Although Aliber's motive for the crime isn't immediately made public, authorities believe he used the vehicle to travel outside of Atchison County. "When we were notified of this, we put an attempt to locate out on the vehicle. We believe that vehicle was spotted in Jefferson County, and while we were searching for it, we were then notified that the vehicle was seen again in the area of where it had been taken."
Aliber was taken into custody on a theft charge.
Following his arrest, he was booked into the Atchison County Jail.