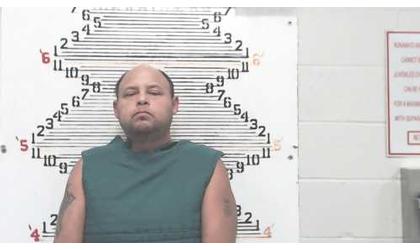 Anthony Walker/Credit: Brown Co Sheriff's Office
(KNZA)--Additional charges have been filed against a rural Horton man, accused of shooting at law enforcement officers during a 10-hour standoff last week on the Kickapoo Reservation.
54-year-old Anthony Walker had originally been charged with felony counts of kidnapping and criminal threat.
Brown County Attorney Kevin Hill filed an amended complaint Tuesday also charging Walker with seven counts of aggravated assault of a law enforcement officer, one count of aggravated assault, one count of criminal discharge of a firearm and a misdemeanor count of domestic battery.
The stand-off began the evening of November 27 after Kickapoo Tribal Police were called to residence in the 12-hundred block of Fern Road for a domestic disturbance.
Multiple agencies responded after Walker allegedly began shooting at officers. According to the criminal complaint, he was armed with a AK-47.
Walker surrendered peacefully the following morning after a tactical team from the Kansas Highway Patrol entered the home.
A woman in the home was able to escape without injury before the standoff ended and no officers were hurt. Officers did not exchange gunfire during the incident.
A preliminary hearing for Walker was continued Wednesday to January 23.
He remains in the Brown County Jail, held on a $100,000 bond.