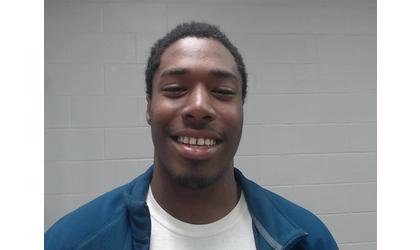 Jarvis Grace/Credit: Atchison Co Sheriff's Office
(KAIR)--Firing a weapon simply for the sake of doing so is what Atchison Police say was the motive behind shots fired, a pursuit, and ultimately an arrest.
Facing charges in connection with the case is 22-year-old Atchison resident Jarvis Grace. "That investigation has now determined that the suspect in custody did fire shots from inside the vehicle, they were shot in the air. We had no threats made to persons, there was no property damage, there was no other vehicle at the scene."
That's Atchison Police Chief Mike Wilson, who told MSC News Grace was arrested following the report of shots fired late Thursday afternoon. "It was at 4:45 on Thursday afternoon when officers responded to the area of Walnut and M Street after we received a report of shots fired. We arrived in the area and spotted a suspect vehicle. We were able to get that vehicle stopped in the 800 block of Parallel where one occupant bailed out of the vehicle and ran. That person was taken into custody after a three-block foot pursuit."
It's alleged that Grace attempted to dispose of the weapon as he tried to escape from police. "During that foot pursuit, the handgun was thrown down by the suspect, which we recovered. There were two other occupants in the vehicle. They were taken into custody at the vehicle, [but] later released."
Grace now faces charges for criminal possession of a firearm by a convicted felon, unlawful discharge of a firearm, and interference with law enforcement.
Following his arrest, Grace was booked into the Atchison County Jail.