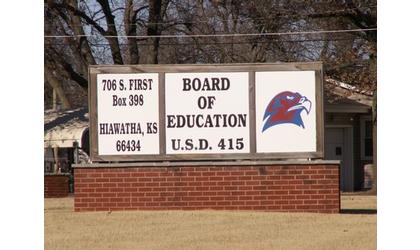 (KNZA)--Enrollment is up again this school year in the Hiawatha school district.
Superintendent Lonnie Moser reviewed the preliminary enrollment numbers with the Board of Education Monday evening.
The figures show a total headcount of 982 students in pre-kindergarten through 12th grade, which is up 47 students over last school year.
The 4th grade class has the largest number of students, with 85, followed by the 5th grade class, with 82.
The district has seen an enrollment increase the past 4 years.
The official enrollment count will be taken on September 20.
Administrative Assistant Joni Sheldon gave a presentation on the district's new website, which was unveiled prior to the start of the current school year.
Seldon said for the most part, the input from the community has been positive.
She said they wanted a website that was more user friendly and engaging.
Based on patron input, she says they've added the breakfast and lunch menus to the site and more calendar information.
The new website will also feature a live feed, notifications from the district and articles written by the school journalism staff.
In other business, the Board approved the purchase of nearly $11,000 in snow removal equipment from American Equipment of Kansas City—including a snow plow and salt spreader that can be attached to a district own pickup truck.
The new equipment will allow the district to do most of its own snow removal.
The district paid about $31,000 last year for snow removal.