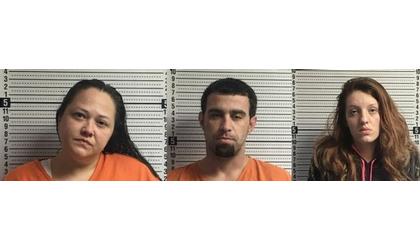 (MSC News)--Three Missouri residents arrested in March following the theft of numerous electronics from the Holton Wal-Mart Store have entered pleas to reduced charges.
The Holton Recorder reports 36-year-old Raven Neece and 31-year-old Joshua Thigpen, both of Ferrelview, Missouri, each pleaded no contest Friday in Jackson County District Court to charges of felony theft and illegal possession of theft detection device removers.
A third defendant, 24-year-old Kansas City, Missouri resident Karly Barnes, also pleaded no contest Friday to charges of felony theft and obstruction of official duty.
Sentencing was set for June 15th.
All three remain in the Jackson County Jail.
Authorities say the trio made three trips to the Holton Walmart to steal electronics in February and March.
They were arrested March 28th following a traffic stop near the store.
A search warrant was issued, and thousands of dollars of high-end electronics were found in their car.
Investigators believe the items had been stolen from locations in Kansas, Missouri, Nebraska and Iowa.
A search warrant was also served later at a Ferrelview, Missouri residence where other electronic devices, ledgers and documents were seized.
Authorities believe the trio sold the electronics on Ebay.