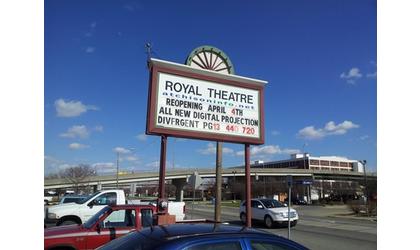 File photo of Atchison's Royal Movie Theatre sign
(KAIR)--The former Fox Theater is named to the Register of Historic Kansas Places.
According to a post on the Kansas Historical Society's Facebook page, the Atchison structure was one of six added to the register on Saturday.
The Fox Theater was constructed in 1949 on Atchison's Commercial Street.
According to documents from the Kansas Historical Society, the period of significance noted for the theater is from the time of its construction until 1970, when alterations were made to create a separate theater in the balcony.
Prior to the 1949 construction, the same parcel of land housed the Fox Royal Theater, from 1911 to 1947.
Following the ultimate closure of the Fox Theater, the site was remodeled and reopened as the Royal Theater in the early 1990's, which closed 22-years later.
In June of last year, the Board of Directors for Theater Atchison, the site of community theater in Atchison, voted to purchase the property, renovate it, and reopen it.
In October of last year, the purchase was completed, and in December of last year, WDM Architects of Wichita and Henderson Engineers of Kansas City were selected as the design team to make the project a reality.
According to a press release issued in December, construction is planned to begin this spring.