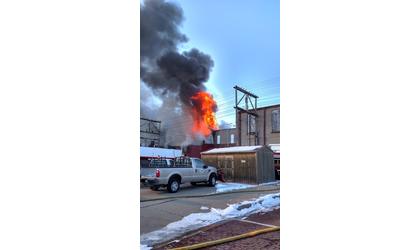 January 3rd fire in downtown Falls City
(KLZA)--The Nebraska State Fire Marshal's office says the cause of a January 3rd fire in downtown Falls City is still under investigation.
That word from Deputy State Fire Marshal Alyssa Sanders, who serves as the Public Information Officer for the State Fire Marshall's office, an email response to MSCNEWS.
The fire, which was first reported between 8:30 and 9:00 a.m.,is believed to have started in Patrillo's Mexican Restaurant in the 15-hundred block of Stone Street . Smoke and water damage occurred to adjacent buildings and due to the heavy smoke from the blaze several Falls City businesses were closed down that day.
Significant smoke and water damage was reported in the Chaney Furniture building next to the restaurant as well as the next building north which housed apartments and offices. The H&R Block building to the south sustained smoke damage but has since been cleaned up and re-opened.
Chaney Furniture Company is still waiting on a determination from insurance companies before they make any decisions on the buildings future. The corner building owned by Paulo and Vanji Bruxellas has already undergone some renovation inside and a building permit for remodeling the building was recently issued by the City of Falls City.
Some work to clean up the debris inside the walls of the restaurant has begun as well.