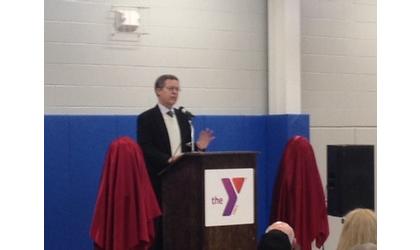 KS Gov. Sam Brownback speaks during the December 6, 2017 grand opening of the expanded Atchison Family YMCA/Cray Community Center. Picture credit: Neil Wieland
(KAIR)--The expanded Atchison Family YMCA/Cray Community Center is ready to serve the local area.
That comes as ceremonies are held for the grand opening of the downtown Atchison facility.
The renovation, and expansion, was made possible through an $11.3 million funding campaign.
That ability to achieve the goal wasn't lost on Kansas Governor Sam Brownback, who served as a featured speaker at Wednesday's ceremony. "This is a wonderful community, that often comes together. Don't ever lost that ability to come together," Brownback told the crowd.
Among the other speakers who addressed those gathered was Atchison Mayor Allen Reavis, who commended the numerous individuals responsible for making the expansion possible, calling it an example of the community coming together to accomplish great things.
Atchison's Rick Berger, chair of the capital campaign for the new Y, and a member of the YMCA of Greater Kansas City Board of Directors, also spoke, citing the YMCA's long term commitment to the Atchison community. "As I've said many times before, the Atchison YMCA has been an anchor for this community for well over 100-years."
A new lobby and lounge, a renovated swimming pool, a multi-purpose studio, a community room, a gym with an upper level walking track, and a new Kids Zone are all part of the finished, expanded Y.
The new, expanded name of the facility was put in place to honor Atchison's Cloud L. "Bud" Cray, Jr., who served as the honorary chair of the capital campaign.
Cray, and his family, have long supported the YMCA, both through use and through funding.