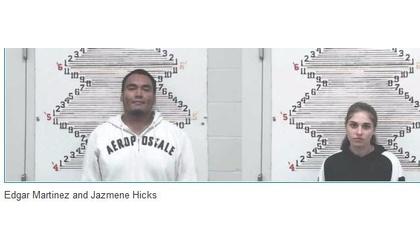 (KNZA)--One of two Sabetha residents charged in connection with an alleged Hiawatha home invasion and robbery is set to enter a plea next month.
Brown County Attorney Kevin Hill says 21-year-old Edgar Martinez appeared in Brown County District Court Monday and indicated his intention to enter a plea in the case. That was set for October 2nd.
Martinez faces felony charges of aggravated robbery, aggravated burglary and aggravated battery along with a misdemeanor count of criminal restraint.
Co-defendant, 23-year-old Jazmene Hicks, pleaded not guilty last month to the same charges. A jury trial for Hicks has been set for October 25th-27th.
The pair are accused of breaking into a home at 121 Apache Street, in Hiawatha, on May 16th. The occupant, Ray Atlakson, told police he was battered and robbed, with his hands bound behind his back before the suspects fled the scene.
Atlakson was treated for injuries at the Hiawatha Community Hospital.
The suspects are accused of taking a pair of car keys, billfold and a RCA tablet by force.
A third suspect in the case, 27-year-old Bern resident Oscar Martinez, is being sought on a warrant. Anyone with information on his whereabouts should contact the Hiawatha Police Department.