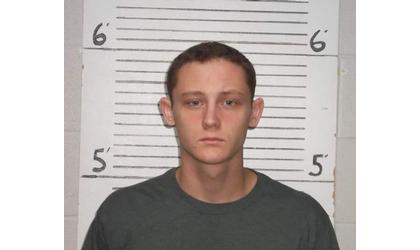 Jarred Kramer
(KMZA)--Formal charges have been filed against two Netawaka teens accused of breaking into and vandalizing the Wetmore Attendance Center early last month.
Nemaha County Attorney Brad Lippert said in a press release Tuesday that 18-year-old Jayme Tyler Hodge and 18-year-old Jarred Kramer have each been charged in Nemaha County District Court with burglary, felony criminal damage to property and theft.
The two teens were arrested following an investigation by the Nemaha County Sheriff's Department.
Kramer is currently free on a $10,800 bond, and is scheduled to appear in court October 10th.
Hodge remains in custody
The Sheriff's Office says the school was broken into and vandalized sometime late August 2nd or early August 3rd. The ballfield concession stand was also vandalized. In addition, an undisclosed amount of money was taken.
Prairie Hills USD 113 Superintendent Todd Evans estimated the total damage at about $65,000.
The vandalism also required school at Wetmore to begin one day later than scheduled to allow time for clean-up and repair.