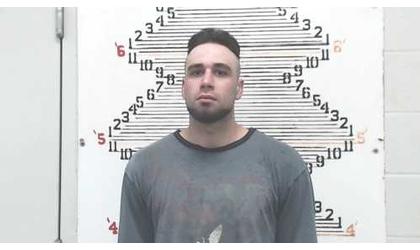 Jordan Pallesen
(KNZA)--A Hiawatha man is facing additional charges after police attempted to arrest him twice on an outstanding warrant, with a scuffle ensuing during one of the incidents.
Police Chief John Defore says 26-year-old Jordan Pallesen had been sought on a warrant for failure to appear in court.
He says an officer tried to take him into custody Saturday at a local business, but Pallesen fled out the fire exit.
Defore says an officer then tried to take him into custody Sunday evening at a local convenience store, but the attempt led to the scuffle. He says Pallesen damaged a front door at the business when running out the door.
Defore says Pallesen was finally taken into custody Tuesday morning without incident behind a local business.
He now faces charges including battery on a law enforcement officer, interference with law enforcement and criminal damage to property. In addition, Pallesen faces a charge of misdemeanor theft in a separate case.
He remains in the Brown County Jail on a total bond of more than $11,000.