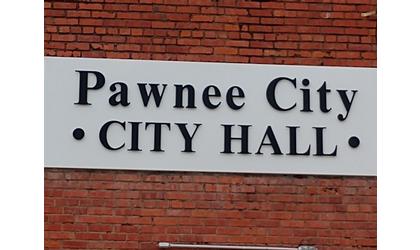 (KLZA)-- Following a conversation with downtown business owner Mitchell Turnbull during the September 14 City Council meeting, Pawnee City Council members approved the placement of signs restricting the amount of time vehicles can be parked on two streets.
There will be a two-hour parking limit on non-customers of downtown businesses between 8:00 a.m. and 5:00 p.m. Monday through Friday.
The affected streets will be G-Street between 6th and 7th and 6th Street between F and G Streets.
In other business the council approved a resolution adopting the City 1 and 6-year Street Plan.
Council members also voted to seek a refund of extra monies used to reimburse John Dahlgren for driveway entrance and tube work.
Council member Susan Eisenhaur made a motion that due to inconsistencies in a so-called gentleman's agreement presented by Council member John Dahlgren, that Dahlgren reimburse the City that additional $492 the City paid for the work.
Council members Eisenhauer and Vickie Zelenka voted in favor along with Mayor Charlie Hatfield. Councilman Dahlgren and Council member Ric Helms abstained.