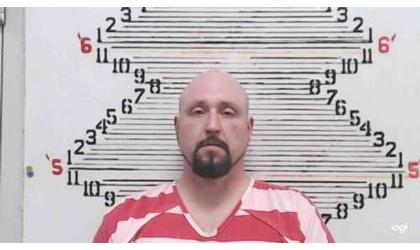 Donald Garrison ( Brown Co Sheriff's Office)
(KNZA)--A Hiawatha man was arrested Monday evening on multiple charges following a domestic incident.
Brown County Sheriff John Merchant, in a release, said dispatch advised of a domestic complaint in the city of Hiawatha shortly after 9:00.
A short time later, a passenger car being pursued by a pickup truck stopped in front of the Sheriffs office, with the pickup stopping a short distance away.
Merchant said the female driver of the car and a small child were safely escorted in to the Sheriff's Office while deputies conducted an an investigation on the male driver of the pickup.
He said it was discovered that he had his two small children in the pickup with him that were not in child safety seats. They were not injured.
The driver of the pickup, identified as 38-year-old Donald Garrison Jr., was arrested on charges of felony theft, two counts of child endangerment, assault, driving while suspended, battery of an law enforcement officer, reckless driving, disorderly conduct and interference with law enforcement.
Garrison was booked into the Brown County Jail, where he remains held on a $10,000 bond.
The Hiawatha Police Department assisted.
The incident remains under investigation.