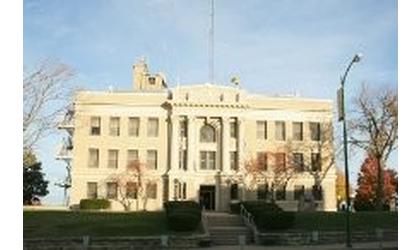 Richardson County Courthouse

(KLZA)--Following a hearing drawing no public comment Tuesday morning, Richardson County Commissioners voted unanimously to approve the Fiscal Year 2018-19 budget as published.
The budget will have a property tax requirement of $4,469,317 which includes $300-thousand for cash reserves.
The jail bond is up nearly $8-thousand to $400,000 making the total tax requirement $4,869,397.
The levy will remain the same as last year at 34.01 cents per $100 of assessed valuation.
Commissioners cut nearly three-quarters-of-a-million dollars from the budgets proposed by county officials.
The county's valuation decreased by nearly $48-million which was a 3.35 percent