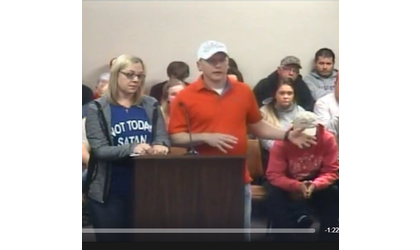 Pam Cline (left) and Jeremy Watkins (right) present plans for a skateboard park to the Atchison City Commission April 16, 2018/Credit: Facebook
(KAIR)--A local couple continues forward with their plan to see the construction of a skateboard park in the City of Atchison.
Pamela Cline, and Jeremy Watkins have been working to see the goal become a reality, with the project being pursued as a memorial to Cline's late son, Joshua Kinsman.
He died in January at the age of 17, with the Skate High with Hope – Joshua Kinsman Foundation founded in his memory.
Originally targeting private property at 10th and Commercial Streets, Watkins tells MSC News that location is no longer available, meaning Atchison's Reisner Park is now planned as the future site of the skate park. "Pam and I did use Reisner Park for the backup, which the city was all for since it was already a preexisting park. We do still plan on getting a $230,000 skateboard park put in there, so we are going to need a lot of donations and a lot of funding to help support that."
On Saturday at 12 noon, an informational meeting about the planned construction will be held at Reisner Park. "We just kind of want to make it more known, that way there's not any major hiccups along the process. We just want to make sure that everybody's okay with it, they know it's coming, they're not going to be surprised."
According to a press release issued by the City of Atchison, the main objective of the meeting is to gather comments from the surrounding neighborhood, although all citizens are welcome to attend and provide comments.
For more information on providing comments outside of the meeting, please contact the Public Works Department at 913-367-5561.