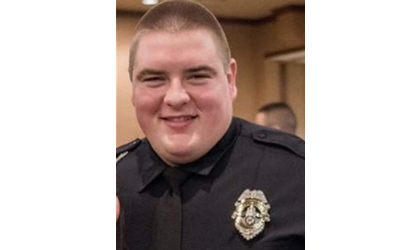 Trey McCluskey/ Photo credit: Topeka Police Dept.
TOPEKA, Kan. (AP) - A newly-released autopsy reports says a 72-year-old man was driving drunk when he collided with a vehicle driven by an off-duty Topeka police officer, killing both men.

The crash on May 29 killed 25-year-old officer Trey McCluskey, formerly of Sabetha, and Peter Bieri, of Lawrence.

The Topeka Capital-Journal reports the autopsy found Bieri's blood-alcohol level was much as three times the legal limit when he drove the wrong way on U.S. 75 north of Topeka and collided with McCluskey's vehicle.

The autopsy listed "ethanol intoxication" as a contributing factor in Bieri's death.

No alcohol or drugs were found in McCluskey's system.

McCluskey's wife, 25-year-old Taylor McCluskey, survived after being hospitalized for injuries suffered in the crash.