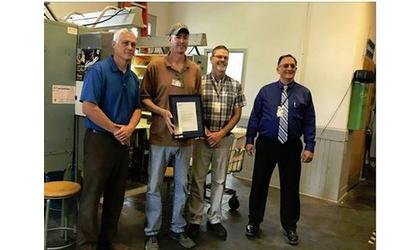 Photo credit: Facebook
(KNZA)--A Hiawatha rural mail carrier has been honored for his heroic actions.
Substitute mail carrier Jim " Stretch" Lovelady was awarded the U.S. Postal Service's "Postmaster General Hero Award" on Friday for going above and beyond to help a postal patron in need.
This winter, on one of the icy days, Lovelady came upon a woman that had fallen and broken some bones.
She had laid out in her yard for what was believed to have been close to over an hour. Lovelady called 911, got some blankets and sat with her until the ambulance could arrive, which with the ice was about another 30 minutes.
Lovelady was turned into the National Office to receive the award, and was surprised Friday when the district supervisors came to the Hiawatha Post Office to present him the award.