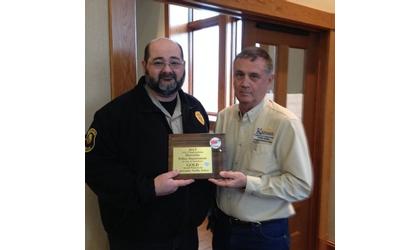 (KNZA)--For the 5th year in a row, the Hiawatha Police Department has been recognized by AAA Kansas for their efforts in addressing local traffic safety issues.
Bob Hamilton, law enforcement liaison for the Kansas Department of Transportation, presented a 2017 Community Traffic Safety Award to Police Chief John Defore during Monday's Hiawatha City Commission meeting. The Department received a Gold Award—the second highest award presented.
Among other things, the Police Department was recognized for its participation in seatbelt enforcement campaigns, fostering safe school zones, staging a mock DUI crash event, having a community-based traffic safety committee and having a policy requiring employee seatbelt use.
Hamilton says the Hiawatha Police Department is among forty-two law enforcement agencies across the state receiving an award. Also receiving an award locally were the Horton Police Department and Brown County Sheriff's Department.
Hamilton says the award is presented by AAA to encourage communities to address local traffic safety issues in a coordinated and cost-effective way.