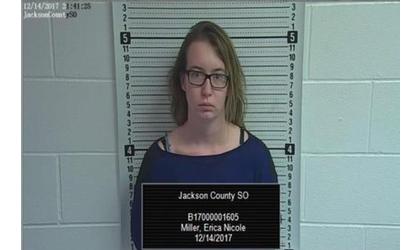 (KNZA)--The wife of a Holton man arrested early this month following an armed standoff now faces charges herself.
Jackson County Sheriff Tim Morse says 23-year-old Erica Miller was arrested Thursday on a Jackson County District Court warrant for two counts of aggravated assault and two counts of domestic battery.
She was booked into the Jackson County Jail and was later released on a $10,000 bond.
Morse says the warrant was issued as a result of an investigation by the Sheriff's Office into an alleged domestic altercation involving a fireman between Erica Miller and her husband, Patrick, late December 3rd in Holton.
It's alleged that Erica Miller was in the possession of a handgun when authorities responded to the domestic incident; and it's alleged that once she was in the custody of the Sheriff's Office, her husband, from inside the home, began shooting at law enforcement, including at a Sheriff's Office vehicle where Erica Miler was being detained.
Patrick Miller faces 17 counts including three counts of attempted capital murder and one count of attempted first-degree murder.
He remains in the Jackson County Jail on a one-million dollar bond.